AUTHORS
CATEGORIES
ARCHIVE
ACTIONS
What I Ate: March 22, 2008 (Ben & Jerry's, Ramen Halu)
Posted 22 May, 2008 at 10:53pm by Michael Chu
For lunch, Tina and I went to a barbecue picnic at Sandia Park in Sunnyvale (Dave invited us - one of his friends was putting it on for his church as well as others who may wish to come). We had trouble getting to the food with all the people there. I had a little Ma Po Tofu.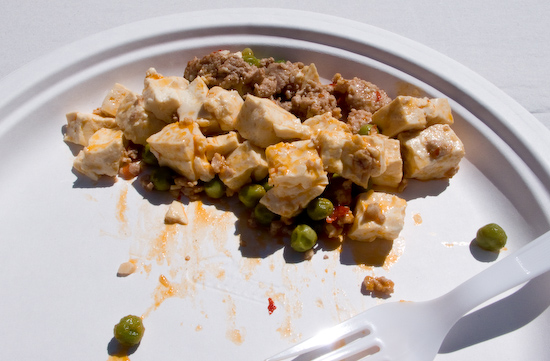 We left the picnic and went to the Mercado Shopping Center nearby where we decided on Yo-Yo Sushi even though both of us remember not liking their food. We shared an Aloha Roll (Salmon on top of a roll with shrimp tempura, cucumber, avocado and mango - the shrimp tempura was precooked and not even refried or warmed up to crisp it up), Caterpillar Roll (unagi and cucumber roll topped with avocado), and Happy Roll (cucumber wrapped around crab meat, unagi, and avocado.) Unfortunately, I forgot to take pictures.
We then went next door to Ben & Jerry's Ice Cream and shared a chocolate waffle cone with coffee and butter pecan ice cream. At this point, I remembered I had my camera.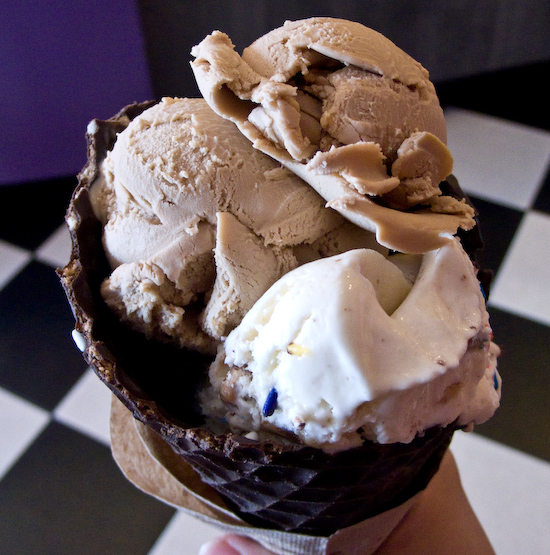 For dinner, we went with Dave and Rachel to Ramen Halu (we had tried to go a couple times already but always too late so there was a long wait outside). We got there at around 6:40pm and there was a ten to fifteen minute wait. I had the regular Halu Ramen and forgot to take pictures until all I had was the broth left.