AUTHORS
CATEGORIES
ARCHIVE
ACTIONS
Dei Fratelli Pasta Sauces and Salsas
Posted 13 May, 2008 at 10:22pm by Michael Chu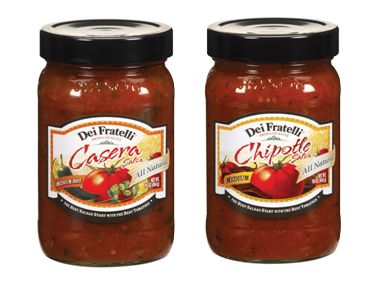 In case anyone is interested, I received a press release concerning a new pasta sauce and salsa product line.
Dei Fratelli, a preferred tomato brand sold throughout the U.S., has introduced two new lines to its family of tomato products – an authentic, robust Italian-style pasta sauce and a flavor-rich salsa. The new lines represent innovation in taste, consumer convenience and health.

Both the pasta sauces and the salsas are produced from crushed and diced vine-ripened tomatoes that have been harvested on local family farms since 1923. They do not contain any paste or added water and are completely free of artificial additives or preservatives. All natural ingredients are used in the production of these products, including imported extra virgin olive oil and sea salt—which appeals to the health conscious consumer.

Packaged in a 26-ounce glass jar, Dei Fratelli pasta sauces are available in eight varieties, including three cheese, marinara, fire roasted vegetable, tomato & basil, homestyle, mushroom, traditional and arrabbiata. Dei Fratelli salsa is also all-natural, and available in six varieties/"heats", including original (in both mild heat and medium heat), chipotle (medium heat), casera (in both mild and medium-hot heat), black bean n' corn (medium heat). The salsas are packaged in 16 -ounce glass jars.

"These products allow retailers the opportunity to offer consumers robust, flavorful convenience – chock full of simple and delicious ingredients they know. No water, no preservatives … just vegetables, sea salt and spices make these products great," offers Steve Hirzel, President, Hirzel Canning Company & Farms. "We are continuing our mission to grow in the canned tomato product category by listening to our consumers' needs and using innovation to meet those needs."

About Dei Fratelli
Dei Fratelli is manufactured by Hirzel Canning Company & Farms in Toledo, Ohio. A fourth generation, family-owned and operated company founded in 1923, which produces canned tomatoes, tomato products and sauerkraut in three processing locations. The company owns extensive greenhouses and farms in northwest Ohio.