AUTHORS
CATEGORIES
ARCHIVE
ACTIONS
Batter Blaster
Posted 2 May, 2008 at 10:23pm by Michael Chu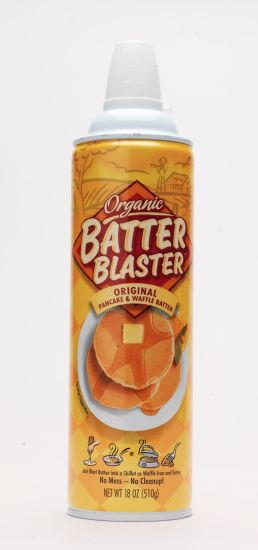 "I was a little surprised when I saw the press release for this new product. It's called Batter Blaster and it's basically pancake batter in a can. I couldn't believe it, but Tina wasn't surprised. When I told her, "Someone put waffle batter into a can and you just spray to get the batter out." She replied, "It's about time!
Here's the press release:
BATTER BLASTER™ BRINGS EXCITEMENT TO THE TRADITIONAL BREAKFAST
Ready-to-Use Organic Pancake and Waffle Batter Prepares for National Launch

San Francisco, CA – May 1, 2008 – Batter Blaster™ is coming to a store near you to change the way you make morning meals forever, with an innovative way to create quick, wholesome organic waffles and pancakes. Launched at the end of September 2007 in select Southern California Costco Stores to eager consumers and rave reviews, Batter Blaster is now available in 22 states,[1] with anticipated full national distribution by the fall.

Batter Blaster meets the demands of today's ever-discriminating consumer, with quality organic ingredients, convenience and environmentally friendly packaging. Batter Blaster uses the highest-quality USDA Certified Organic ingredients, including Certified Humane cage-free organic eggs. The propellant in the pressurized can contains no ozone-depleting CFCs, and the cans are made of recyclable steel.

Each 18 oz. can of Batter Blaster makes approximately 28 4-inch organic light and fluffy pancakes or crisp and airy waffles in minutes. Batter Blaster is perfect for single servings, snacks, camping and families on the go. Batter Blaster pancakes and waffles taste homemade, just like mom used to make, but these waffles and pancakes are made with a twist: the application is fun, easy and exciting, with no mess and quick cleanup.

"As an at-home gourmet with a passion for food experimentation, I married my love of food with my entrepreneurial spirit," said Sean O'Connor, co-founder, Batter Blaster. "To give time-starved people the ability to eat a delicious and healthy breakfast in minutes is really satisfying – it's simply an added bonus that the product is also fun to use. The customer response has been overwhelmingly positive and we are thrilled to be able to roll the product out nationwide this year."

Batter Blaster takes the fuss out of pancake and waffle making, replacing it with fun, and it pleases the organic-conscious and the time-crunched convenience seeker. For more information visit www.batterblaster.com.

About Batter Blaster

Batter Blaster uses a unique, pressurized patent-pending process and USDA certified organic ingredients to make organic pancakes and waffles in minutes. Launched in 2007, Batter Blaster is the brainchild of former San Francisco restaurateur Sean O'Connor and his business partner, Nate Steck. For more information, visit www.batterblaster.com.