AUTHORS
CATEGORIES
ARCHIVE
ACTIONS
What I Ate: March 16, 2008 (Cafe Rosso & Blanco)
Posted 8 April, 2008 at 6:50pm by Michael Chu
For lunch, Tina and I went to University Avenue in Palo Alto for lunch. After walking down the road a bit, we decided to go back to the Neibaum-Coppola Cafe which is now called Cafe Rosso & Blanco. We had been there over a year ago and remembered the food being adequate and the meal being pleasant. I mainly remember it because I can order my favorite wine - the Rubicon Estate Cabernet Savignon 2002 - in affordable portions (a 750 mL bottle starts at around $140) such as a 1.5 oz pour for $7.50 or a 3 oz pour for $15. I don't drink much wine, so a half glass (3 oz) is perfect and, although really expensive for a half glass, it's worth it. I was a little disappointed to see that they had the 2003 Cab instead (I haven't tried that one), but wasn't planning on drinking anything so it wasn't a big deal.
We had the Insalate di Spinaci (spinach, crimini mushrooms & pancetta, tossed with a Dijon vinaigrette and topped with a sunny-side up quail egg) which was really good. The spinach was fresh and sweet and went perfectly with the sweet dressing and slightly salty pancetta.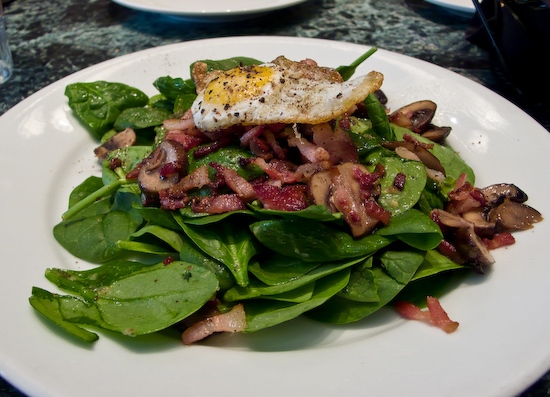 I ordered the Bucatini alle Cozze e Vongole (littleneck clams, black mussels & spicy Spanish chorizo with parsley, garlic, white wine & breadcrumbs) which is what I had last time. I really like the texture of bucatini (it's thicker than spaghetti and has a thin hollow core) and the mussels were tender and really sweet. The only problem with the dish was that after a while, the saltiness of the chorizo gets the sauce too salty.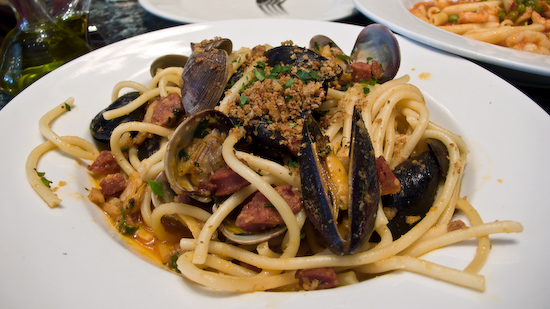 Tina had the Penne Capesante e Piselli (scallops & shrimp with English peas, garlic, tomatoes & basil) which I tasted. The scallop was good, but could have been a little more tender. The same went for the shrimp. The dish was a lot less salty than the bucatini but had a generally good flavor.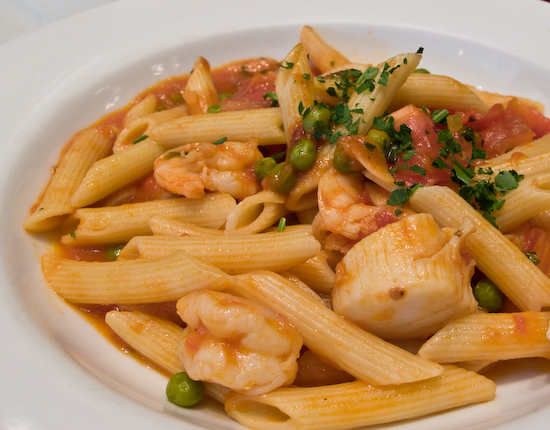 Cafe Rosso & Blanco (Google Maps)
473 University Ave
Palo Alto, CA 94301
(650) 752-0350
In the evening, I went to my friend Pete's house to play games (computer, video, and board games) with a bunch of other friends. I played some Rock Band and then a four hour game of Rails of Europe - an expansion set for Railroad Tycoon (the board game based on Sid Meier's strategy game). The theme of this game night was finger foods, so I ended up eating a lot of appetizers for dinner.