AUTHORS
CATEGORIES
ARCHIVE
ACTIONS
Uchi in Austin, Texas
Posted 17 April, 2008 at 8:57pm by Michael Chu
I just had the most amazing meal in my life. No kidding. And it wasn't in San Francisco or New York, it was in Austin, Texas. The restaurant: Uchi; The executive chef: Tyson Cole; The food: mind blowing. I'll be writing up a piece on Cooking For Engineers (but I'm in Austin right now and only have a laptop for use as an image dump and internet access - so I'll work on it when I get back to California) but for now here's a couple pictures as teasers.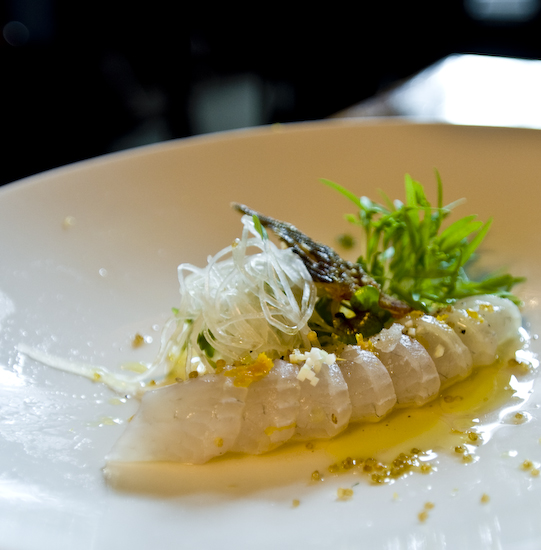 This hirame usuzukuri is thinly sliced flounder seasoned with sea salt, spanish olive oil, yuzu zest, and crisped quinoa. It was served with daikon, micro-basil, and micro-fennel.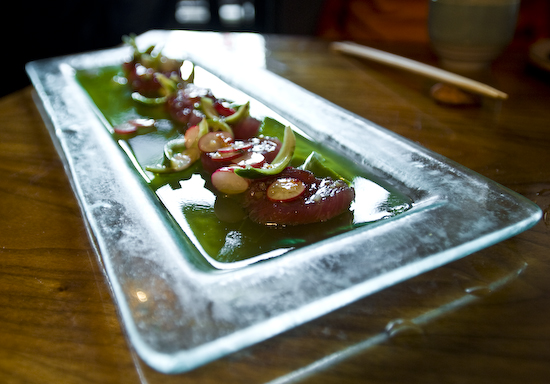 This was tombo nasu - Hawaiian albacore tuna topped with sweet chili and lemongrass vinaigrette served with Thai eggplant slivers and shaved breakfast radishes on top of a thin layer of cucumber gelatin. The combination of the spicy chili sauce, meaty tuna, crunchy eggplant, and sweet & refreshing cucumber gelatin was probably one of the most incredible taste combinations I've ever had.
Our server, Erin McReynolds, was also the best captain we've ever had at any restaurant including a couple two star restaurants in the Bay Area. Besides being friendly and personable, she really knew her food, was articulate and patient when I needed ingredients or explanations repeated, and was genuinely excited that Tina and I were excited about our food. I don't know if all the staff is at the level of Erin (and I suspect they are not), but we were blessed and lucky to have her waiting on us and it certainly helped make the incredible 3-1/2 hour dinner even better.
Keep an eye out on Cooking For Engineers for the full review of our experience in the coming weeks.