AUTHORS
CATEGORIES
ARCHIVE
ACTIONS
What I Ate: January 31, 2008
Posted 3 February, 2008 at 10:19pm by Michael Chu
For lunch, I decided to try another new place - Kirk's Steakburgers in Santa Clara. This is a restaurant that opened up recently taking the location of the ominously named restaurant "The Octagon" (which I never got a chance to try). We've been getting fliers for Kirk's Steakburgers for a while, so I thought it was time to try it out. I ordered the Steakburger (1/3 pound patty) with cheese (Jack) cooked medium-well (it came closer to medium) as well as a side of garlic fries (after verifying that they were steak fries and not shoestring). The burger comes with just a bun - you provide the fixings from on open bar. I loaded the burger up with lettuce, tomatoes, pickles, red onions, mayonnaise, and ketchup.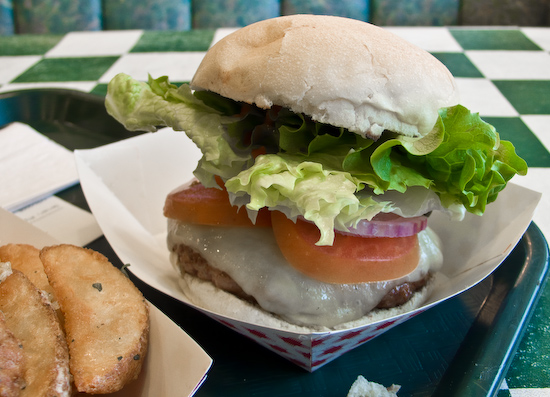 The burger was fine, but nothing special. I'd rather have an In-N-Out burger or one from The Counter (if I'm looking for something with a big patty). The fries were pretty good and had strong garlic flavor, but like Gordon Biersch's garlic fries, the idea is better than the execution.
Kirk's Steakburger (Santa Clara) (Google Maps)
2605 Homestead Rd.
Santa Clara, CA 95051
(408) 241-5475
For dinner, Tina's mom brought us rice with chicken stir-fried with mushrooms and vegetables and potatoes.