AUTHORS
CATEGORIES
ARCHIVE
ACTIONS
What I Ate: February 8, 2008
Posted 12 February, 2008 at 10:49pm by Michael Chu
I went to Garcia's Taqueria for lunch and ate with my friend Dave and his company, Sendori. I ordered a super quesadilla with lengua (beef tongue) and a horchata.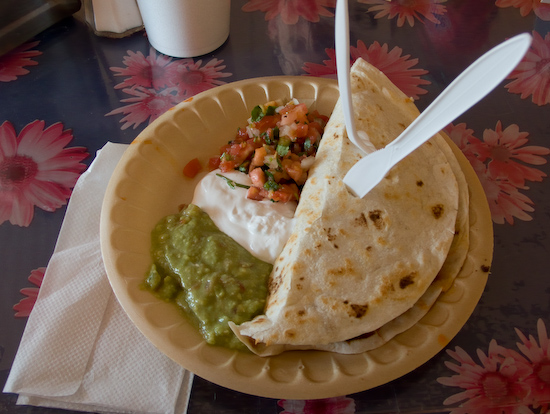 Garcia's Taqueria (Google Maps)
738 S Fairoaks Ave.
Sunnyvale, CA 94086
(408) 992-1060
For dinner, Tina and I headed over to Uncle Frank's BBQ to try what some people say is the best southern food in the Bay Area. Unfortunately, when we showed up at 8:20pm, they told us they close at 8:00pm. We drove over to University Ave. in Palo Alto and walked down the street until we saw a restaurant that seemed to be a good place to eat. We ended up at Bella Luna.
We ordered a few items to get a sense of the restaurant. When the bread arrived, we started on that. The bread itself was light and fluffy with no real crust to speak of. The olive oil provided had some herbs with a strong garlic taste and we found that quite pleasing, but the bread was extremely bland. It completely lacked salt and did not even have a taste of the fermentation of yeast. It was like eating soft, fluffy cardboard with a lovely garlicky olive oil dip. I ate half a piece and really the thought of putting more of the bread into my mouth discouraged me so much, that I couldn't even do it just to taste more of the olive oil.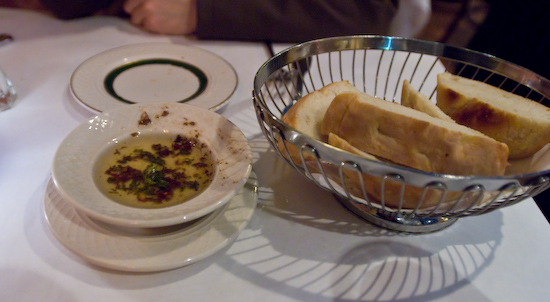 I ordered the Antipasto Rustico Per Due (Mixed Italian appetizers for two) ($12) and, when it arrived, I was fairly excited by the variety on the plate. The tomato and mozzarella (like an Insalata Caprese but without basil) was okay. The mozzarella was mild and tasty if you paid attention while chewing, but the tomato flavor was almost completely lacking. The bruschetta was soggy, the tomatoes were mushy, and I couldn't detect any garlic flavor. Melon (cantaloupe) and ham (it definitely wasn't Proscuitto di Parma) would have been good with the right ham. The cantaloupe was sweet and refreshing, but the ham was sliced almost millimeter thick and really quite chewy and almost tasted of stale fat. The zucchini and eggplant was bland - missing any zucchini or eggplant flavor (although the textures were there) and was only saved by the presence of olive oil and black pepper which liberally coated both. The centerpiece, calamari rings, were served chilled and the texture was decent with no unnecessary chewiness - it was crisp and easy to bite through. Flavor-wise - there was a strong squid/fishy taste and not much else.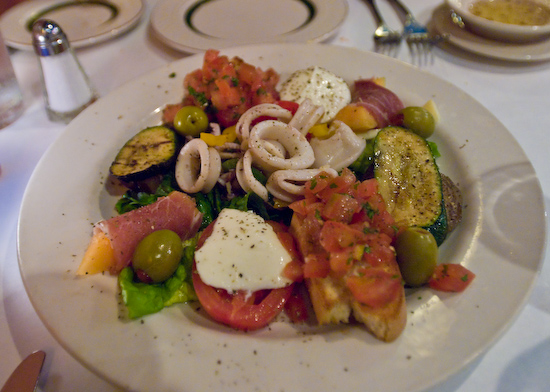 So far the bread and appetizers weren't starting off the meal very well. Tina commented that what we should do in the future is order appetizers first, taste, and then decide if we should stay and order mains. I think I agree with her on this one.
For main courses, we ordered a pasta and a meat dish. Both Tina and I had eyed the Fettuccine con Famberi e Rucola (Homemade fettuccine pasta with rock shrimp, garlic, arugula, and fresh tomatoes) ($16). The fettucini was decent but tasted no different than the fresh pasta that you can buy at the grocery store. The shrimp was a bit tough - a sign of being overcooked - and tasted bland, as if it had been boiled. The whole dish was pretty bland except some bites were extra salty, tasted very acidic (from lemon juice), and oily. My big problem with the dish was that the "fresh" tomatoes were way overheated resulting in a mushy texture and cooked taste that I found undesirable in this dish. Tomatoes should either be completely cooked and integrated with the sauce or freshly chopped and tossed into the dish. If served fresh, they should NOT be mushy or taste cooked.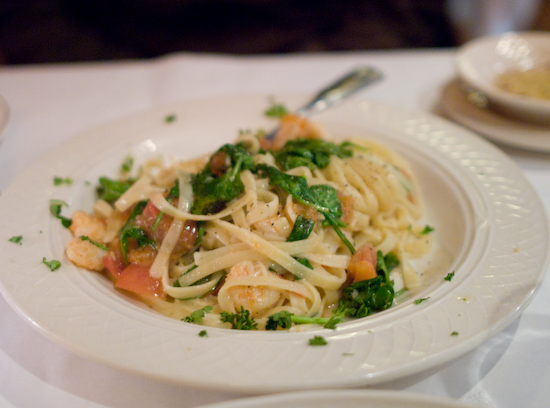 The other course was the lamb shank ($23) which was presumably braised. The shank was tough and also (like the rest of the dishes) low in flavor. Both could have been improved by longer braising. The steamed squash, broccoli, and carrots were my favorite part of the dish.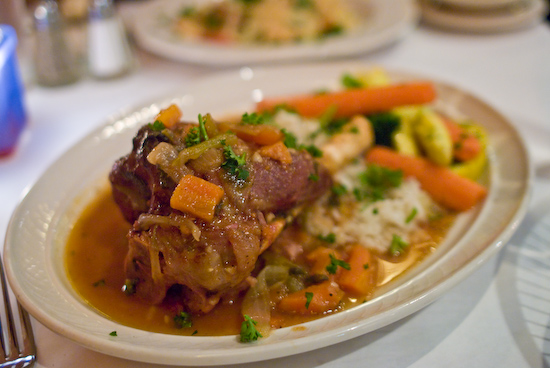 After eating for a little while, both Tina and I got tired of eating. It's a horrible feeling when you haven't eaten until you're content but have lost desire to continue eating. We had the food packed up into boxes (I might "fix" them later with a little salt and reheating), paid the bill, and left.
Bella Luna (Google Maps)
233 University Ave.
Palo Alto, CA 94301
(650) 322-1847
Here's a picture of the restaurant's exterior so if you see it you can avoid it…