AUTHORS
CATEGORIES
ARCHIVE
ACTIONS
What I Ate: February 4, 2008
Posted 8 February, 2008 at 11:07pm by Michael Chu
For lunch, three of the Fanpop Four (Papa's sick) when to Hard Knox Cafe. Having been really impressed by the ox tail and the fried chicken, I thought I'd try something new. I ordered their fried pork chops and was a little let down. The chops were tough and chewy and the breading didn't stay on the pork.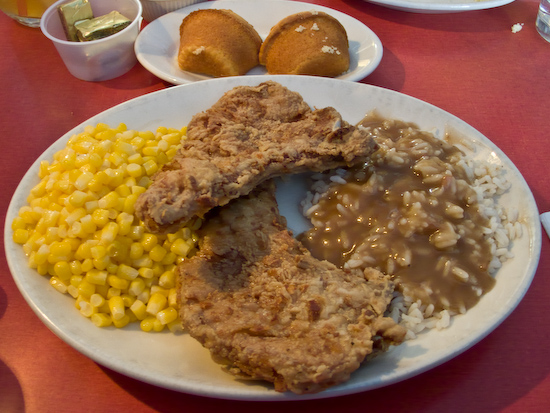 The corn muffins were still delicious and so were my sides (corn and rice with gravy), so I was still happy with the meal overall. I also bought a couple extra muffins to take home to Tina.
For dinner, I roamed the supermarkets looking for something that caught my eye. Nothing did, so I went over to Subway and bought a six-inch Turkey and Ham sandwich.