AUTHORS
CATEGORIES
ARCHIVE
ACTIONS
What I Ate: February 3, 2008
Posted 6 February, 2008 at 10:35pm by Michael Chu
I started off the day with half a bagel (plain) spread with some cream cheese.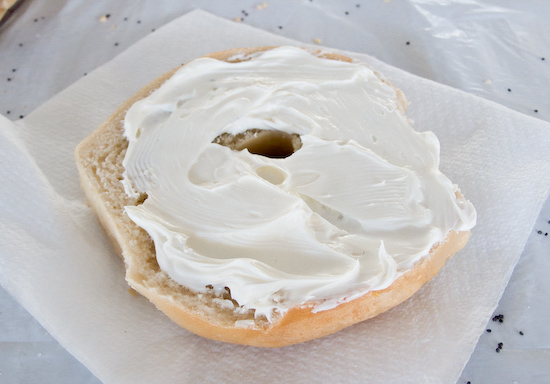 After church and running some errands, I picked up some food from China Stix to take home to Tina (who is sick - perhaps with the same thing I had last since her sinuses are really congested). I ordered Mongolian Beef (which they make with a lot of green onions), Hunan Family Style Tofu, String Beans, and Pork Fried Rice.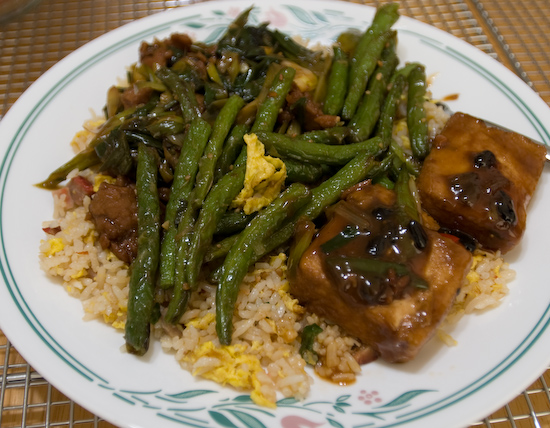 After the Super Bowl (and snacking at my neighbors' place), I polished off the left overs we had from Chevy's - some carnitas, a couple shrimp, chicken, spanish rice, and beans.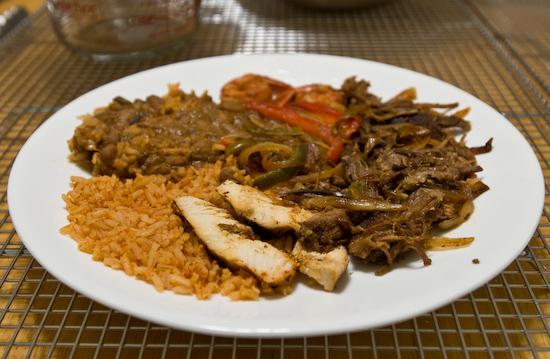 I attempted to follow this up with a leaf wrapped thing from Lee's Sandwiches that I bought the night before and hadn't tried yet.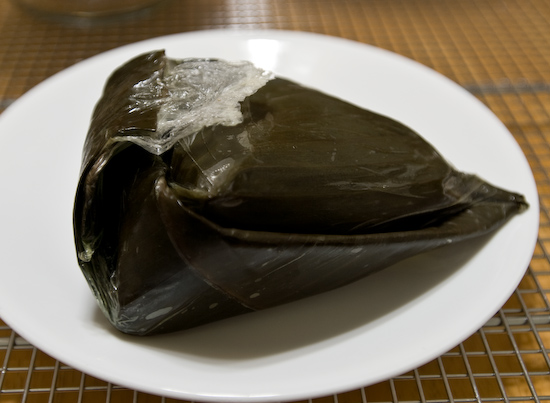 Inside was a concoction made of glutenous rice flour, ground pork, mushrooms, and mung beans. I was hoping it would be similar to the Chinese zongzi (Chinese rice dumplings made of glutinous rice filled with meats or vegetables and wrapped in bamboo leaves). Upon unwrapping it (it was encased in a giant leaf - perhaps banana), I realized this was not the case. The rice flour used was very fine to form one giant mass of rice jelly.
I tried heating it in the microwave, but it wouldn't heat evenly, so I broke it open to heat.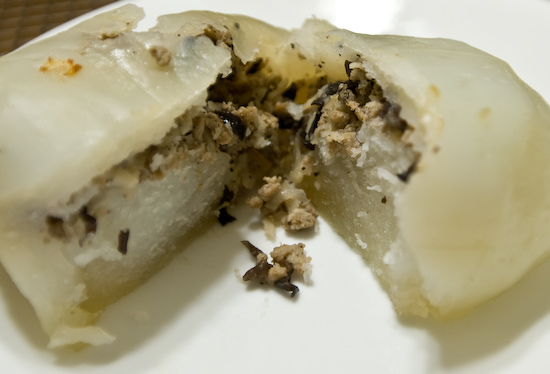 After tasting it, I found it bland and without much flavor - just tasted like cooked rice flour, boiled ground pork, and not much else. It needed salt and perhaps a lot of hot sauce. I didn't feel like experimenting further, so I ended up eating half a banana instead.