AUTHORS
CATEGORIES
ARCHIVE
ACTIONS
Left Bank (San Jose, California)
Posted 23 August, 2007 at 10:14am by Michael Chu
I've been to Santana Row quite a bit but have never dined at Left Bank (one of five Left Banks, owned by the owner of La Folie in San Francisco (where Roland Passot is executive chef) and Tanglewood (also in Santana Row). The dining was pleasant and the food pretty good.

Calamars Farcis sauteed calamari stuffed with prosciutto, onions, and fresh herbs served on a bed of chunky tomato sauce [2] - The concept is really intriguing, but the result just doesn't live up to expectations. Although the squid body was cooked perfectly (tender and not at all chewy), the stuffing was drier than expected and tasted of the briness of the sea. The calamari was served on a bed of diced tomatoes that tasted like they had been poached in clam juice. The double combination of sea brine (tomatoes and stuffing) was a bit too much and definitely overpowered the subtle flavor of calamari.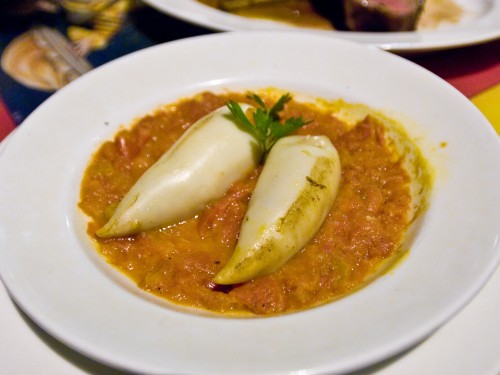 Salade D'Epinards
baby spinach, endive, Point Reyes Blue cheese, pecans, and a honey-garlic vinaigrette
[4] - The creamy, sharp Bleu cheese was perfectly balanced with the sweet vinaigrette for this salad. Just what I wanted from this spinach salad.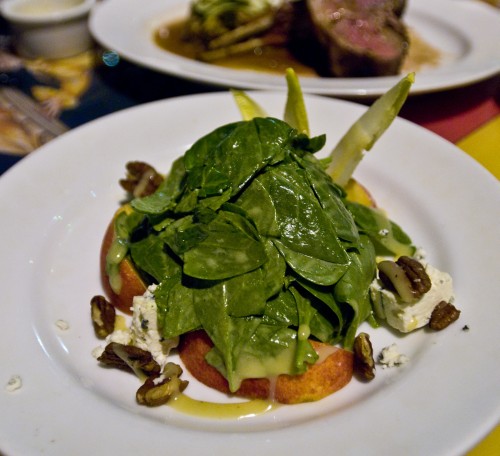 Carre D'Agneau
roasted rack of lamb served with jus and ratatouille
[3] - The lamb was extremely tender, but a bit gamier than I like it. Tina felt it could have used more salt, but I found that it was fine as long as I didn't run out of jus. The ratatouille was excellent.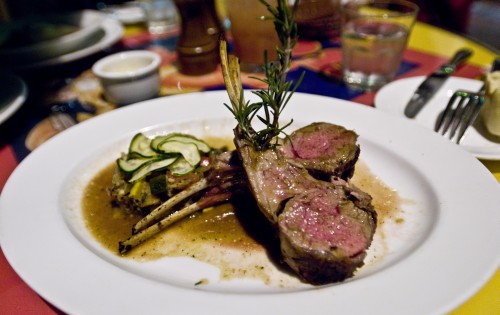 Recommendation Guide:
5 - Highly Recommended (this dish is good enough to go out of the way to this restaurant for it)
4 - Recommended (if you're dining here, then I would recommend this dish)
3 - Recommended with reservations (depending on your taste, you might like this dish - I found faults in it)
2 - Not Recommended (I did not like the dish and probably will not order it again)
1 - Really Not Recommended (This dish was poor enough that you do what you can to avoid this dish)
0 - Run Away (Avoid this dish by simply not eating at this restaurant)
(Ideally, a good restaurant would receive all 3's or higher and a great restaurant would have all 4's.)