AUTHORS
CATEGORIES
ARCHIVE
ACTIONS
Dining with Food Bloggers at Oliveto
Last night I dined with twelve other food bloggers (including significant others) at Oliveto in Oakland, California. I had never met any of the other bloggers, but it was a lot of fun to eat good food and chat with other foodies.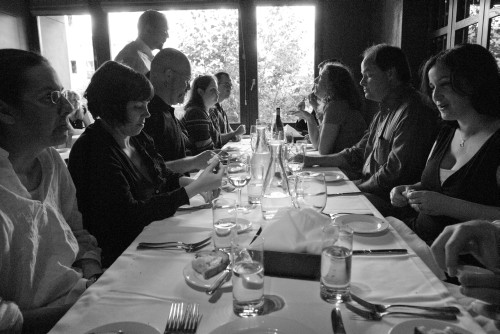 When Food Bloggers Dine
I sat between Shuna Lydon (who writes
Eggbeater
) and Deb and Alex from
Smitten Kitchen
and chatted about food, The French Laundry, Martha Stewart, and this year's crop of wine grapes, stone fruit, and melons while sharing a plate of salumi with Shuna, Deb, Alex, and Cheryl (Chockylit from the
Cupcake Bakeshop
).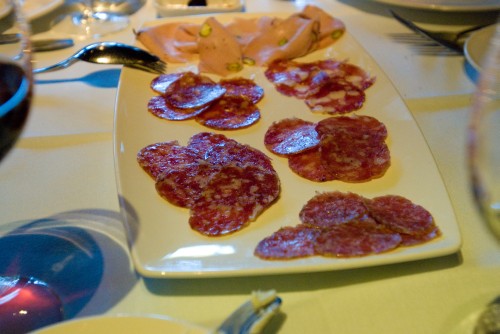 Salumi Platter
Particularly of note was my main course - charcoal grilled pigeon that was served with some just cooked peaches. The pigeon was the best fowl I had ever tasted. The flesh tasted like an unbelievable blend of duck and perfectly cooked rib-eye of elk. It was incredibly tender and amazingly flavorful.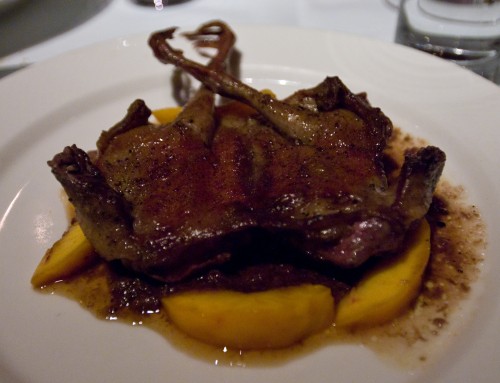 Charcoal Grilled Pigeon