AUTHORS
CATEGORIES
ARCHIVE
ACTIONS
What's wrong with Chris Matthews?
Posted 19 April, 2007 at 12:45am by Michael Chu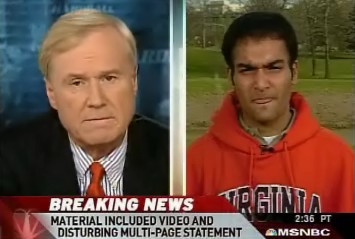 This week we were all shocked by the tragedy at Virginia Tech where Cho Seung-Hui gunned down and killed at least 33 people. I don't really want to blog about the events or the manifesto or how crazy Cho Seung-Hui must have been - but I do want to talk about getting upset over an interview with Karan Grewal (Cho's "roommate") and Chris Matthews.

In case you don't know who Chris Matthews is, he's a journalist / political commentator on MSNBC. I don't watch his show (Hardball with Chris Matthews), but apparently he's known to interrupt his guests and disagree with them vehemently. In any case, for some reason, they chose him to interview Karan Grewal who lived in the same suite as Cho. (In some colleges, there is housing set up in suites rather than the traditional dormitory floors. The suites generally have three to ten rooms and a common area which the residents of the suite share. I stayed in suites of varying sizes when I went to college and found it to be a fairly intimate environment where you get to know your suitemates much better than if you were living on a floor with forty or more students.)
Chris starts off asking Karan what it was like "roommating" with Cho, to which Karan replied that Cho was quiet and reserved. Karan then stated that Cho kept to himself and didn't seem dangerous at all. Karan had thought that Cho was "really shy and reserved" and left him alone after "most times when [he] said 'Hi', he's looked down or look away and pretend he didn't hear me."
Chris replies with: "I never heard of a kid like that - did you? Have you ever heard of a person like that? That wouldn't communicate in college? I mean in college you try to get along with people; it's part of the experience, to… to be social to some extent. Have you ever heard of a kid who wouldn't talk to you?" Chris then asks Karan if the cops came to Karan before the killings and asked him if Cho was a threat, then what would Karan say. Karan replied that he would tell the cops that Cho was not aggressive in nature or angry. He emphasized that he'd never seen Cho upset - just basically the same expression all the time. Chris then interrupts and says, "I have to tell you Karan, I've never heard of anyone like this in my life. You mean, he walked around without aspect, like a zombie, and you guys didn't talk about him, you never told anybody about him, you never thought this was really weird — you said weird — I think really weird. You never thought it was really weird that a guy who was completely incommunicado with his own suitemates."
I looked at my screen and I said, "What?" and typed "What?" in my IM window to my coworker Cliff (we were working from home, otherwise I would have said it out loud — due to a series of instant messages, we had ended up watching the same news video roughly at the same time). At the same time, on my screen, Karan said, "What?"
Apparently Chris Matthews lives in a different world than I do. Without the knowledge that Cho was to become a mass murderer - he was simply an extremely introverted and shy teenager. They are no mean the majority or plurality of the kids around, but to deny that they even exist is kind of odd. Then to imply that the suitemates should have reported the shy kid or asked to transfer because your suitemate was too quiet (which he asked Karan earlier if he did - Karan said "No") is ludicrous.
Throughout the rest of the interview Chris hunts for someone to blame. He doesn't come out and say it, but he sets up a lot of leading questions and implication filled statements. After acting incredulous that the suitemates (or Karan himself) did not ask for a transfer, he then forcefully states that the University administration kept Cho's past (psychological issues, stalking reports) from his suitemates. He also asked a few leading questions suggesting that the suitemates assumed Cho was not fluent in English. Then later in the interview he jumps on Karan for not noticing that Cho was obviously fluent in English since he spent a lot of time on the computer writing in English.
My favorite part was when Chris tried to blame Counter-Strike, the terrorist/counter-terrorist first person shooter/simulation. Not once, but twice he asked about Counter-Strike in particular. The first time, Karan stated that Cho didn't play computer games. About 3 minutes later, Chris comes back and asks again about Counter-Strike.
Chris: Let me ask you about… is there any culture at Virginia Tech about video games, anything the guys talk about… like video games, like this Counter-Strike game?

Karan: Well, there's a lot of tournaments that people do by themselves but there's no formal club tha…

Chris: But, what about the informal? Is there a sub-culture around video games?

Karan: Not really. Some people are interested, some people are not. There's not really a big culture on any kind of violent games or anything. No.
To quote Cliff's IM: pwned!
Anyway, Chris then goes on to see if he can find fault in the police's actions. He then says that Cho wasn't a very smart criminal to have removed the serial numbers from his guns but leaving a paper trail of receipts so the guns could be tracked back to Cho. Again, Cliff and I were incredulous. I wrote, "he's not trying to get away" and Cliff wrote, "uh, leave a trail? you mean like from his corpse? It's fairly obvious who did it"
The ending of the news clip left us with this statement from Chris: You know, you know, I have to tell you, as much as I am in disbelief that a person could be a roommate… you guys are very tolerant. Maybe it's - I don't know whether it's diversity or something, but today in school you're much nicer to classmates and roommates than we ever were. If we had a roommate that never talked at all to any of us, I think we would be asking for changes of roommates.
I think that is an underlying problem with journalists like Chris Matthews. He's operating under a different set of experiences and assumptions about the world — the world has moved on and the people reporting on it to us have not.