AUTHORS
CATEGORIES
ARCHIVE
ACTIONS
Cayenne tisane… is insane
Posted 20 April, 2007 at 10:10pm by Michael Chu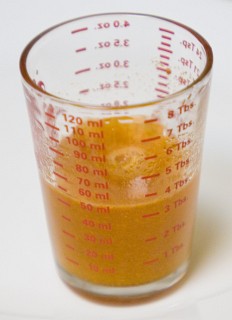 In response to my post about sore throats, Papa (David Papandrew, co-founder and chief product officer of Fanpop) suggested a website of some home remedies. The top remedy on the website is the Cayenne Pepper Sore Throat Cure with 167 people writing in to say it works and 9 dissenters. So, I thought, "Why not try it?"

The "cure" is:
Penny's Cayenne Pepper Remedy: Penny from Fresno, CA writes, "If it is too late, as in strep, it takes gargling with cayenne in water every fifteen minutes until it goes, and be patient, because it GOES. I haven't had a sore throat take hold in 15 years or more, though many have tried to start up, which also is a way for many illnesses to sprout. I generally will gargle cayenne in water at whatever strength I like and do it as much as I can until I tire of it, and then repeat every fifteen minutes, each time swallowing a tiny bit real slowly (not necessary). It only stings the tongue a little when spitting out, otherwise, no discomfort, you can get used to even the swallowing part when you see how well it works. I use the cheap Mexican stuff, but also keep on hand in refrigerator the pesticide free stuff from health store. Cayenne is a miracle cure for ulcers and so many other conditions, plus aids assimilation of nutrients and vitamins. I will keep cayenne in water in the bathroom in case I get up in the night, so I can gargle once in the night if I am very sick, but if it is in water, it will go bad quickly and needs to be put back in refridge in morning. Afterwards suck on a clove (see below). I have never seen a sore throat that won't succumb to it."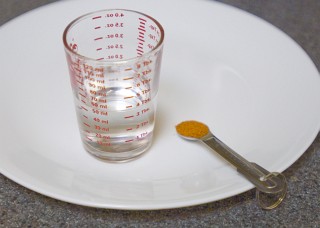 So, I warmed up 1/4 cup of water and got 1/4 teaspoon cayenne pepper ready. (I then noted that I was running low on cayenne pepper and would have to pick up some more for my spice rack.) I took a picture. Then I mixed the pepper into the water and took another picture. Tina looked over and said, "Wow. Are you sure about this?" I shrugged and took the measuring cup into the bathroom where I set it down on the counter and stared at it. Man, that's a lot of pepper. I checked my throat and realized that I actually felt a lot better. Just the thought of gargling with that muddy red liquid was curing me. I didn't NEED to gargle because my throat had been properly scared into healing from just looking at the cayenne suspension. Nice.
Anyway, after a half minute of tricking myself that I didn't need to try it, I went for it. 2 ounces of cayenne and water went into my mouth and I gargled for as long as I could hold my breath - then I breathed through my nose and kept gargling. Four times I did this before spitting it out and pouring the rest of the liquid into my mouth for another session. As I finished up, I thought, "This is some tasty cayenne pepper." Then the burn started. It started on my tongue and crept around the insides of my mouth until the whole thing was on fire. Except, the throat. It was not burning. It had some slight discomfort, but maybe it was better than before, I wasn't sure.
I then walked into the kitchen and grabbed a clove and shoved it into my mouth. The burn was continuing and even growing, but not anything I couldn't handle. As I sucked and chewed on my clove, I thought, "This isn't working…"
Then the clove kicked in. You know when it does because you get a burst of strong clove taste - I couldn't tell if it was bitter or what, but it did have a sting (as if that's what I needed assaulting my mouth at the moment) and tasted pretty nasty. Then it started to numb everything. I felt it attacking my throat and then I just felt numbness accompanied by a slight cooling sensation. After the clove was gone (finally!) I found that my throat didn't hurt anymore, even when swallowing. My nose did feel like it was a bit more congested than when I started, but my throat didn't feel like it was filled with phlegm or anything. I took a sip of water and I could feel the water going down my throat - so Tina's theory that I would just burn and annihilate my throat was not quite correct.
I'm not cured, but the symptoms sure seem like they've been alleviated somewhat. I'll have to try it again without the clove and then later with just the clove. For now, I have to wait for the sore throat to regain it's former ferocity.