AUTHORS
CATEGORIES
ARCHIVE
ACTIONS
What I Ate: August 7, 2009 (McDonald's, Wendy's)
Posted 7 August, 2009 at 5:41pm by Michael Chu
Breakfast: I had to wake up early and drive into Austin to take care of some stuff. Since it was morning, I couldn't resist and stopped in on a McDonald's for a Sausage McMuffin with Egg (my favorite thing on their menu next to the Filet-o-Fish). Of course, I got a hash brown patty as well.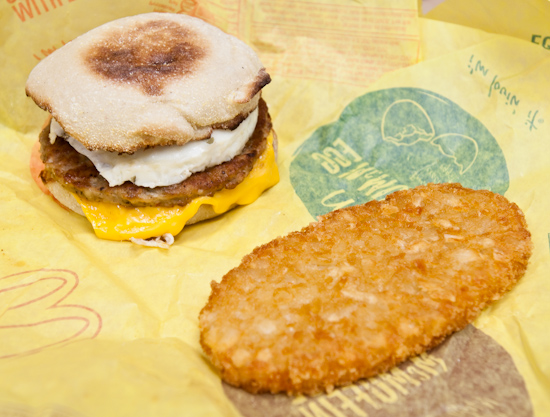 Lunch: I found myself driving back to Austin again, and, since I was eating without Tina, I thought I'd take the opportunity to eat something she wouldn't ("Chinese food" prepared by a fast food restaurant - in this case an American fast food chain). I have been intrigued by the Wendy's commercial with cello music playing in the background where they follow a plate of Asian-style chicken that is being delivered to a table by a waiter in a uppity Asian restaurant. The camera zooms in on the chicken and then back out to cleverly transition from the fancy restaurant to a Wendy's. So, I ordered the Sweet & Spicy Asian Chicken Boneless Wings with a side salad and sweet tea. The "fancy" chicken was just a chunk of chicken, breaded, fried, reheated, and tossed in a very sweet, but tasty Asian-influenced sauce. The chunks of breaded meat could have been mistaken for chicken nuggets (I think they use the same breading) except they were not of uniform shape (they could have been incorrectly shaped nuggets) and tougher than Wendy's nuggets normally are.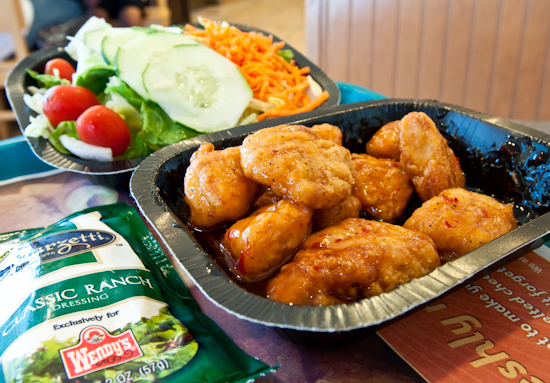 Here's an advertisement from Wendy's. The breading on the nugget isn't even the same! The one in the picture looks like a fine texture (almost smooth) perhaps a corn starch batter. The real one has the coarse Wendy's chicken nugget breading which loosely covers the surface of the chicken instead of enrobing it. I know the adverts for the Big Mac looks better than the real thing, etc. but this is a pretty drastic difference.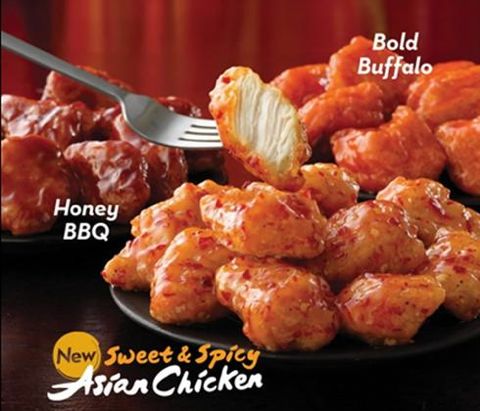 Here's a close up of what I ate: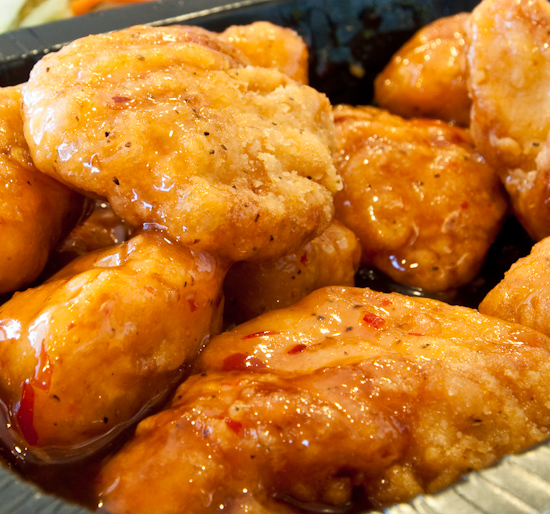 See the difference? Huh… now that I've posted the pictures, they don't look at far off the mark… what do you think?
Dinner: I had dumplings from Tina's parent's for dinner. Sometimes I like eating dumplings cold - they have a different texture (I think it's firmer and the dough has a bit more bite). I usually eat dumplings with some soy sauce, vinegar, and whole peeled cloves of raw garlic. Tonight I decided to pass on the garlic and soy sauce and just dip in Chinkiang Vinegar.