AUTHORS
CATEGORIES
ARCHIVE
ACTIONS
What I Ate: August 21, 2009 (Texas Roadhouse)
Posted 21 August, 2009 at 11:22pm by Michael Chu
Lunch: I had a leg from a Central Market rotisserie chicken (Spicy Thai flavor) with sweet corn and sweet peppers.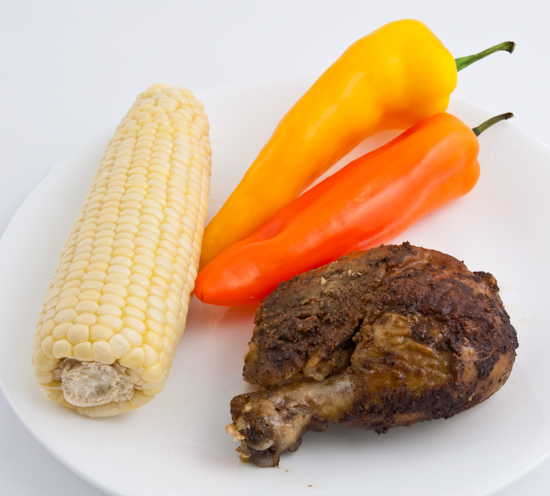 Dinner: On our way to a movie, Tina and I decide to try the Texas Roadhouse in San Marcos, Texas. Texas Roadhouse is a multistate chain of bar and grills whose spokesperson is Willie Nelson. This particular one had a sign out front letting you know who owned it and who was the chef and managers. It said Willie Nelson was the owner. Now, I don't know if that's part of the spokesperson contract or he actually owned this one - I've never been to a Texas Roadhouse before. Since many of Willie Nelson's documents and archives are stored at Texas State University in San Marcos (much of it donated by Willie Nelson), it's possible that he has some ties to the town and perhaps actually owns this Texas Roadhouse. I dunno.
I ordered the Country Fried Chicken with house salad and chili and Tina ordered the Fried Catfish with green beans and sweet potato. We weren't expecting much from the food, but ended up pleasantly surprised. Unfortunately, due to the time (we were rushing to a movie) we sat at the bar and the lighting there was predominantly red from the neon lights. Color correction can only go so far…
My salad was a typical house salad - lettuce with chopped tomatoes, shredded cheese, and croutons. It also had crumbled eggs on top. The eggs made this salad. Somehow, the eggs with the Ranch dressing and the cheese just made it really flavorful. I miss having egg on my salad I guess.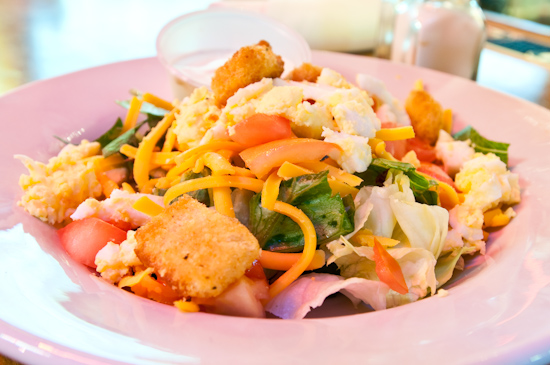 My Country Fried Chicken ($10) was butterflied and pounded flat before frying. It was very moist and tender - which is good considering how easy it is to overcook chicken breast and dry it out. Unfortunately, the gravy (of which I had the choice of white or brown and chose white) was a tad sweet for my taste. I didn't eat half of my chicken - but that's mostly because of all the other better tasting food that filled me up. The chili it came with was wonderfully salty and spicy with a heavy cumin flavor.

Tina's catfish ($10) was what we ended up eating for dinner. The plate came with four catfish fillets that had been breaded in cornmeal and deep fried. The flavor of the fish was fresh and light - not at all muddy as I remember the catfish I've had years ago. The breading was crunchy and lightly flavored (in balance with the fish). It was served with a Cajun sauce which was like a spicy mayonnaise that worked great with the fish. It made us decide to try more catfish in the future. Tina was able to eat two of the fillets and I ate the other two. Her dish also came with green beans which had been cooked with chopped bacon. That little addition made that side dish (like the eggs on the salad). The baked sweet potato was also great with butter and brown sugar served on the side. Even though we were full we worked our way through the soft and creamy potato until there was no more.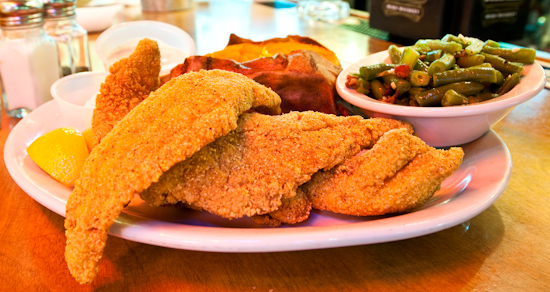 For a casual sit-down restaurant, we were very surprised at how much we liked it. Restaurants like TGI Fridays and Applebee's have only served to disappoint us and usually leave us semi-empty (we tend to lose our appetites and just stop eating). Texas Roadhouse is in the same price range, but the food agrees with our tastebuds more.