AUTHORS
CATEGORIES
ARCHIVE
ACTIONS
What I Ate: June 18, 2009 (The Root Cellar Cafe)
Posted 18 June, 2009 at 11:01pm by Michael Chu
Lunch: I made hamburgers out of ground chuck mixed with ground dried porcini and hand formed into patties. These were pan seared, topped with a thick slice of Texas 1015 Sweet Onion (grilled on the same pan with the beef fat). I served on a pain au lait bun with bacon, mayonnaise, ketchup, cherry tomatoes, and a half pickle.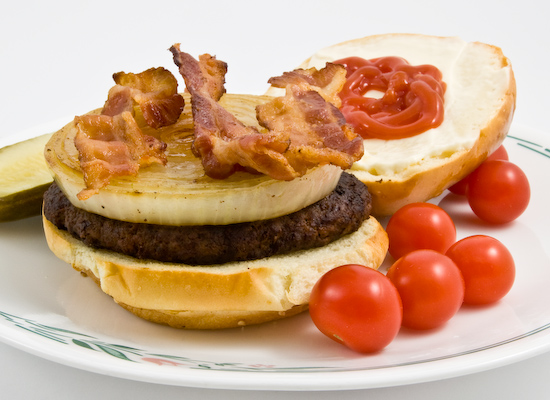 Dinner: We went down to San Marcos to try the Root Cellar Cafe for dinner. We ended up sitting at a table that used to be a sewing machine. We thought that was pretty cool.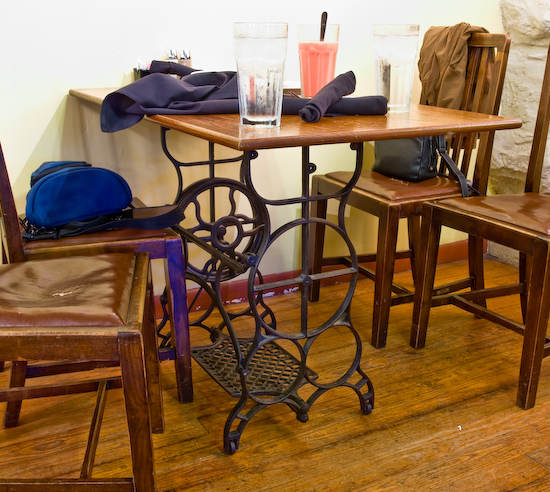 We started with a Spinach Artichoke Dip served with Pita Chips ($5.95) which was little overly cheesy. Not all the artichoke chunks were edible (many were fibrous and had to be removed from the mouth). Also the pita "chips" weren't crispy, nor were they toasted. They were just soft triangles of cut up pita bread. I think I would have liked it a lot more if they were crispy like Stacy's Pita Chips.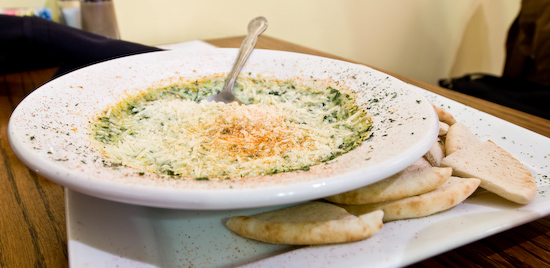 We had side salads before our main courses arrived.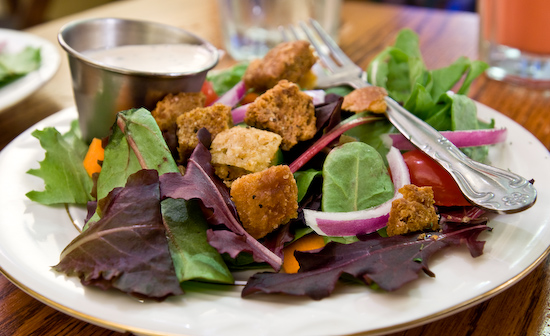 I ordered the Bourbon Pecan Chicken Jack Daniels Bourbon Sauce poured over a Pecan Crusted Chicken Breast served with White Rice & Asparagus Fries ($13.95). The chicken was thinly sliced and pounded flat before being encrusted with pecan bits. It was tender (but not juicy) and quite flavorful with the sauce. The white rice was mostly untouched because the chicken was seasoned enough to call for eating much of the rice with it. The asparagus fries were battered and deep fried asparagus which I preferred over the ones that I've had at the Stockton Asparagus Festivals in past years because the asparagus was thinner (without any woody parts) and the batter was highly seasoned. Tina found it to be a bit oily. Believe it or not, this was the best dish we had.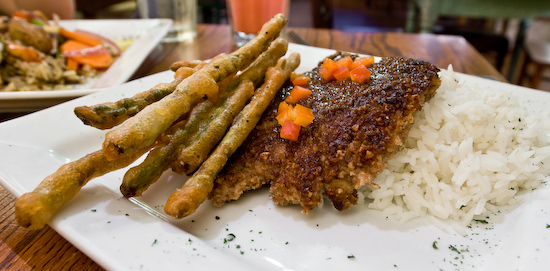 Tina had the Cilantro Lime Grilled Shrimp served with Wild Rice & Vegetable Medley ($11.95). The shrimp was really fishy. It tasted like it was cooked in clam juice or something. I'm used to shrimp that is mild with a natural sweetness and slight brininess. This was so strong that after I tasted it, I almost didn't want to keep eating anything. I asked about the shrimp and our waitress, Mary, offered to have a different dish made (we declined because by that point we were getting full with our appetizer, salad, and sampling both dishes several times). I did send her back to the kitchen a couple times to get more info on the shrimp. In the end, I discovered no additional information except that it's Gulf shrimp. Now, I had fresh Gulf shrimp two weeks ago and don't remember tasting anything fishy - so now I've got to see if I can get some more at the market this weekend and cook up some to see if there's a different taste for shrimp from the Gulf of Mexico.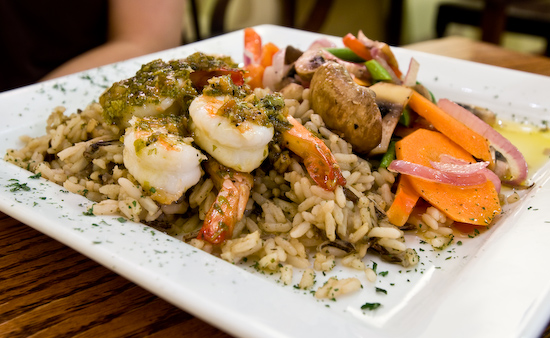 The meal was passable, but we're probably not going back.