AUTHORS
CATEGORIES
ARCHIVE
ACTIONS
What I Ate: March 14, 2009 (Acapulco, Coi)
Posted 15 March, 2009 at 2:48am by Michael Chu
Tina and I ate at Acapulco near our house for a relatively quick lunch. Tina ordered her favorite: Tortilla Soup.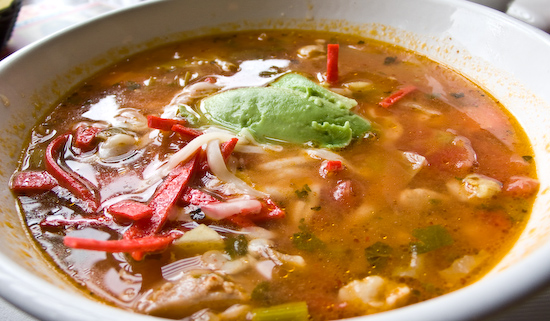 I ordered the Shrimp Enchiladas.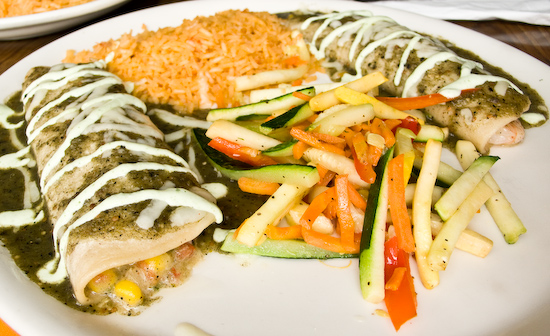 For dinner, we continued our tour of fine dining in the Bay Area with a trip up to San Francisco where we dined at Coi (pronounced "kwa"). The dinner we had at Coi is quite likely the best fine dining Tina and I have ever had. (The only other contender would be Uchi in Austin, Texas). We had the Full Menu (the normal tasting menu is 11 courses, but we requested all 15). Here's a list of what we ate (and a sampling of the photographs). Again, a full article will eventually appear on Cooking For Engineers. (I had a lot of difficulty photographing many of the dishes because they were served in bowls which requires my camera to clear the lip of the bowl and still have enough distance to focus. Many of these had to be handheld which meant that the colors would not be as vivid since I had to crank up the sensitivity of the sensor. I'm going to have to figure out a way to get the camera into a suitable position and angle for food served in bowls. Also, the first few courses arrived while the sun was still up. The mixed lighting made the colors hard to correct for in the incandescent restaurant lighting.)
The bread and butter are made in-house. The butter was churned from Straus cream.
Our meal started with what they called milk & honey. A ball (I think it was milk skin) filled with a liquid that tasted like milk and honey). What a way to start the meal!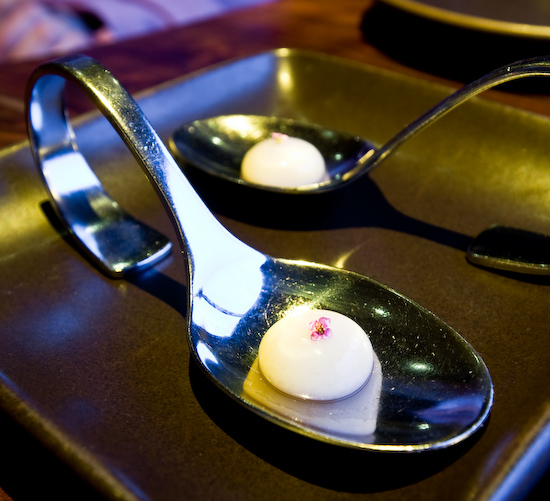 Pink Grapefruit ginger, tarragon, black pepper - a ball of grapefruit sorbet over diced grapefruit segments with a foam/mousse on it. Served alongside a drop of Coi Perfume (a pleasant scent made from essences of pink grapefruit, ginger, black pepper, cognac, and tarragon).
Shiny Beets citrus scented gel, vadouvan - a citrus gel covers each slice of beet; really a delicious combination
Inverted Andante Dairy Goat Cheese and Black Olive Tart chicories, green apple, mint - this dish had some of the best goat cheese we've ever had.
Winter Into Spring early season asparagus, buttermilk snow, sylverleaf olive oil, herbs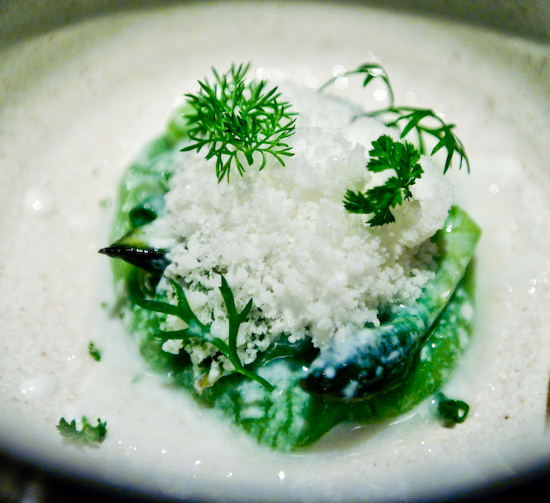 Parsley Root-Green Garlic Soup local snails, padron chile flakes, radish
Salad For The Apocalypse roots, ash, weeds The roots were turnips and sunchokes. The ash was made by roasting leeks until black, shaving them, and mixing with olive oil and maltodextrin. It actually crumbled and streaked like ash would, but tasted like concentrated leeks. The weeds were Miner's lettuce - a plant rich in Vitamin C common in California.
Sturgeon Poached in Smoked Oil pig's head, caviar vinaigrette, nasturtium scented potatoes This was my favorite dish - I thought about ordering another one for much of the rest of the meal until I became much too full to consider eating more.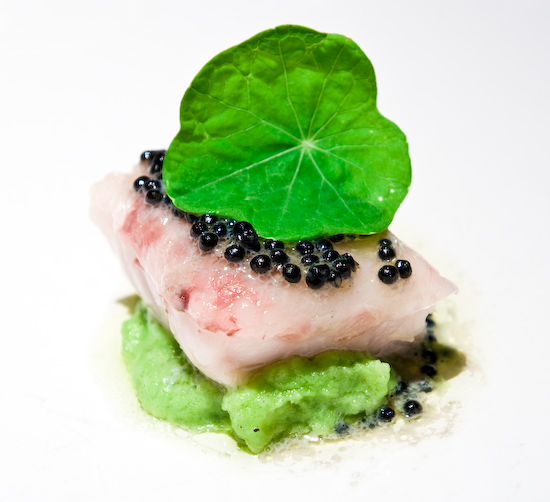 Earth and Sea steamed tofu mousseline, yuba, fresh seaweeds, mushroom dashi
Nettle-Ricotta Cannelloni wild mushrooms, oxalis flowers - the cannelloni was made of a slightly sweet nettle juice gel (instead of pasta) and was the perfect wrapper for the ricotta based filling. The base of the oxalis flowers were lemony. Eaten all together, the sweet, sour, and salty blend perfectly together. Perfect blending would be how I would describe all of the dishes we had tonight and really demonstrates the skill and palate of not only Executive Chef Daniel Patterson but also his entire kitchen staff.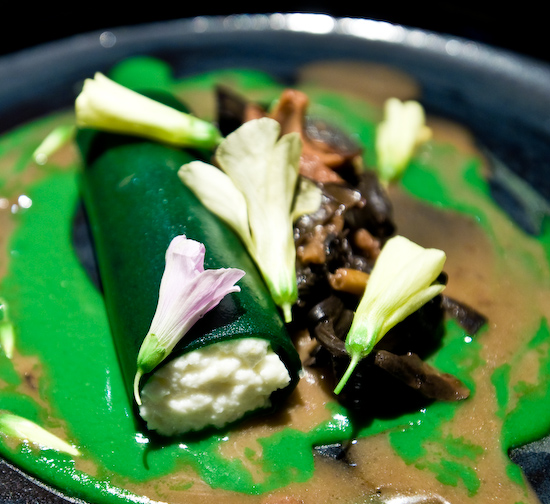 Black and White Shellfish Porridge grilled abalone, mussel, clams, broccoli di cicco - the started off a little weird because we both tasted the black rice porridge first and felt it was really sour. The dish actually has both a black rice porridge layer and a white rice porridge layer separated by a thin lemon gel sheet. Spooning the porridge picks up a little of the sour gel and it mixes in the mouth. Could this be the first bad dish? Nope, Daniel Patterson knows what he's doing. When the porridge is eaten together with the shellfish, the sourness simply turns into a brightness that matches perfectly with the briney and slightly sweet shellfish. Taken together with the broccoli di cicco, this dish completely demonstrates Patterson's mastery of blending flavors, successfully activating all the taste buds - salty, sweet, sour, and bitter. Amazing.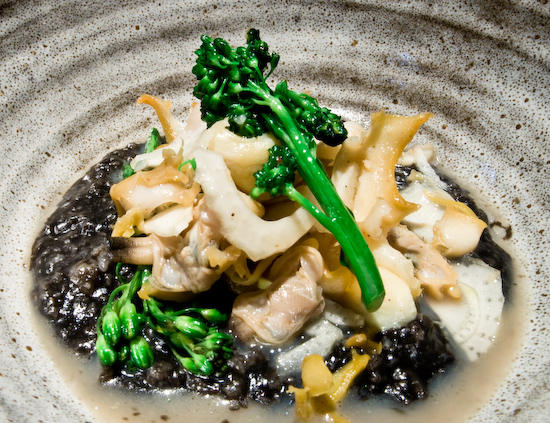 Slow Cooked Farm Egg slow roasted farro, erbette chard, brown butter-parmesan sauceThe egg is the most perfectly cooked egg I've ever had in my life (and I like to think I'm pretty good at cooking eggs).
Pastured Beef, Pure Form Prather Ranch loin cooked in its fat, marrow, roasted cauliflower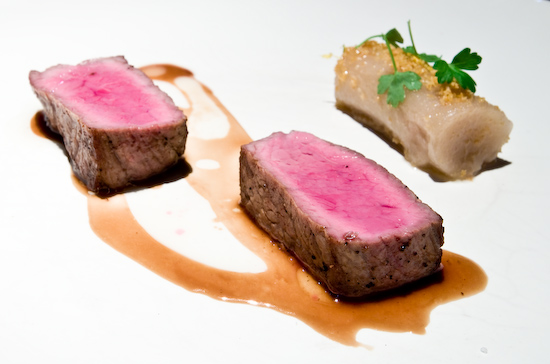 Trio (Soyoung Scanlan) toast, peppercress - this soft cheese from Soyoung Scanlan, the master cheesemaker from Andante Dairy and was made from the blending of cow's milk, goat's milk, and creme fraiche.
Intermezzo: Yogurt with kiwi served with a black lime foam.
Blood Orange Curd douglas fir ice cream, black walnut crumble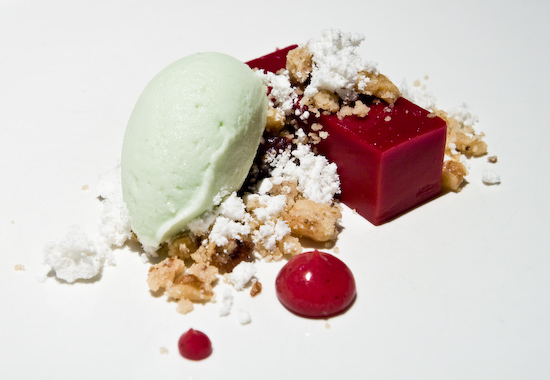 Caramelized Jasmine Custard hazelnut and cocoa textures
Finale: Chocolate Chip Truffles with Olive Oil, Vanilla Milkshake.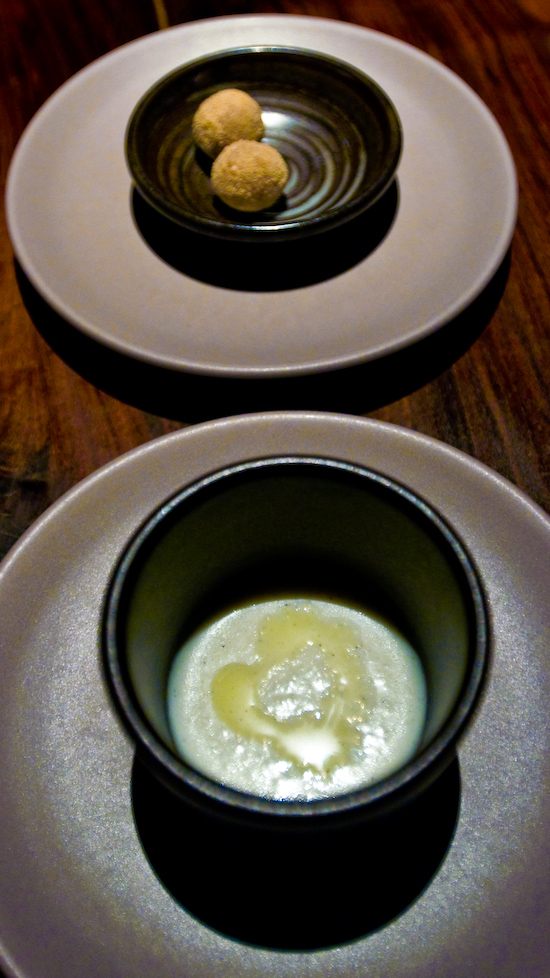 I should probably mention that Coi is situated right next door to Centerfold's strip club and kitty corner to Showgirls. Who knew one of the best restaurants in the Bay Area would be on this block.