AUTHORS
CATEGORIES
ARCHIVE
ACTIONS
What I Ate: February 20, 2009 (Arby's)
Posted 21 February, 2009 at 1:17am by Michael Chu
I had lunch with Harold today… but didn't have any place in mind when I met him. We decided to just randomly drive until something caught our eye. We noticed a few places we hadn't tried yet but didn't look like we'd want to risk it and a few places that one or both of us knew were just no good. Somehow at the end of it all we ended up at Arby's - a place I hadn't eaten at in at least 15 years. I ordered a Bacon Beef 'n Cheddar sandwich with a side of Potato Cakes (instead of curly fries).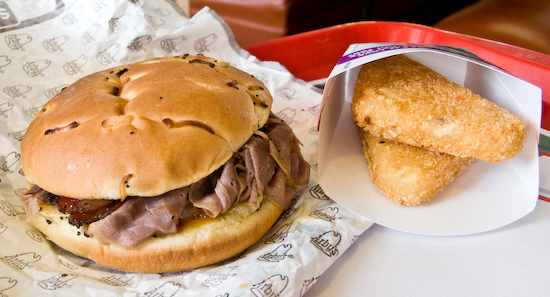 The sandwich wasn't very good. The bread was really soft and the bits of onion on the bread tasted a little odd (maybe it was too sweet). The beef was fine and so was the bacon, but the cheese was a little sour and tasted more like American cheese than cheddar. Overall, the flavor was a tad bland. I really liked the potato cakes though. They are essentially extra thick hash brown patties. Too bad it comes at the price of 1 gram of trans fat (for the two cakes).
For dinner, I ended up having the rest of the left overs from Mehfil Indian Cuisine.