AUTHORS
CATEGORIES
ARCHIVE
ACTIONS
What I Ate: January 22, 2009 (Caffe Centro, Red Robin)
Posted 23 January, 2009 at 1:38am by Michael Chu
For lunch, Papa and I went to a restaurant we had never been to before: Caffe Centro (102 S Park St, San Francisco, CA‎ - (415) 882-1500). I chose Caffe Centro because when we went to South Park Cafe last week we noticed this place next door to it was packed. I ordered a Roast Beef Sandwich (on focaccia bread with mayonnaise, tomatoes, and Swiss cheese). I looked a bit disappointing, but tasted okay. Not anything special. (There was also a hair next to my sandwich that I had to remove - another strike against them.)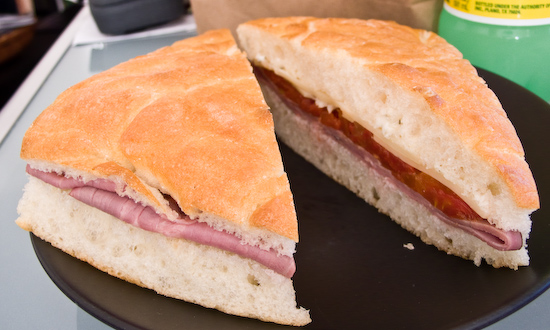 I also snacked on some pretzels and fresh pineapple that I bought from the corner market.
At dinner time, I felt like eating the fries at Red Robin, so I met Tina there and had an A1 Peppercorn Burger with lettuce and tomatoes and an egg. (The picture of the burger looks bad because of how it was propped up in the basket…) I ended up eating only half of it and finished Tina's hamburger (a turkey burger with chipotle mayonnaise) instead. The fries are great - thick with a crispy outside and soft fluffy inside.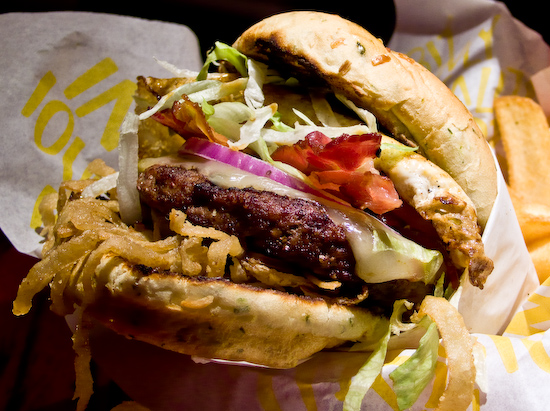 Besides the excellent fries, Red Robin also makes a great Raspberry Limeade that I make sure I get every time I go.