AUTHORS
CATEGORIES
ARCHIVE
ACTIONS
Tropicana's New True Valencia Orange Juice
Posted 18 September, 2008 at 3:55pm by Michael Chu
I noticed the other day that Tropicana has a new orange juice line on the market called Pure Valencia. Like all of Tropicana's juices, the juice isn't reconstituted from concentrates so it takes more like fresh squeezed. In my area, the Pure Valencia orange juices run about $5 for each 54 ounce bottle (9.3 cents an ounce) and that's a bit steep for orange juice when the Minute Maid is $2.50 for 64 ounces (3.9 cents an ounce) at regular price. So, does Pure Valencia really beat Tropicana's normal Pure Premium juice (which is about $4 for 64 ounces - 6.25 cents an ounce)?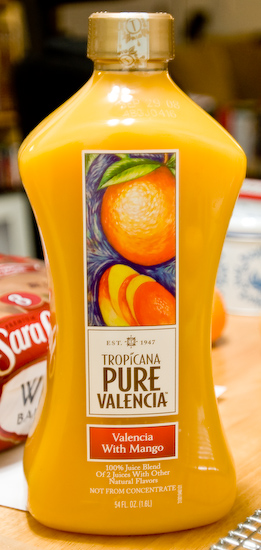 I tried two flavors - Valencia with Mango and Valencia with Pulp. The flavor of the juices is actually really good. I'd say, the Valencia with Pulp is as good as fresh squeezed (or as close as you can get in a mass produced bottle). The flavor of the juice is a perfectly blended sweetness and tartness that just screams fresh oranges. It's this last flavor - the taste of real oranges - that I find missing in most commercial orange juices that makes me want to eat an orange instead of drinking it's juice. The taste of the Pure Valencia is good enough that I actually feel justified in paying the premium price for this juice.
Valencia with Mango is a great tasting juice blend, but the blend of flavors makes it hard to clearly discern the individual taste of the premium orange juice. I like the Valencia with Mango juice, but there are other juice blends that are quite good as well - almost on par with this product - at a much lower price point. I'll probably only buy the Valencia with Mango juice again if it goes on sale.