AUTHORS
CATEGORIES
ARCHIVE
ACTIONS
What I Ate: January 18, 2008
Posted 20 January, 2008 at 1:12am by Michael Chu
For lunch we went out to a restaurant a couple blocks from where Fanpop works in San Francisco - Primo Patio (Google Maps). I've made this comment before about many restaurants in San Francisco, but their front door (like that of Hard Knox Cafe) is easily missed, even when walking on the sidewalk right past the place.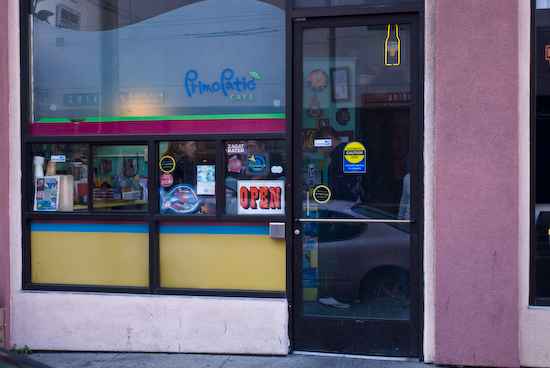 This place is a great place for lunch or dinner - casual, friendly, and tasty. The food is Carribean and the jerk chicken is great, but nothing beats the Snaps (fried red snapper) served with Primo Sauce (which they refuse to tell us what's in it - It seems to me that it's just Russian dressing with cayenne pepper and perhaps a hint of lemon juice). Dave, Papa, and I shared an order of Snaps (which is tradition when we go to Primo Patio).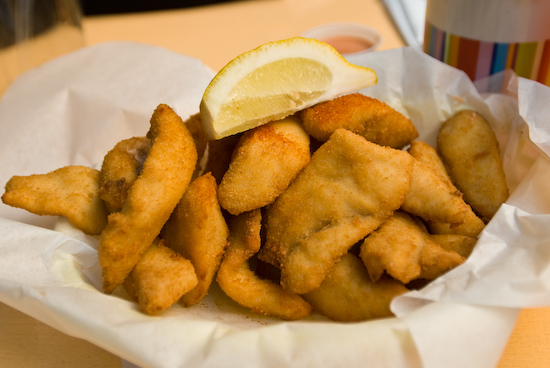 I felt like something different for lunch (I usually get a sandwich - and usually the jerk chicken one) so I tried a shrimp and fresh spinach quesadilla. It was quite good - the tiny shrimp weren't overcooked and the spinach was barely wilted.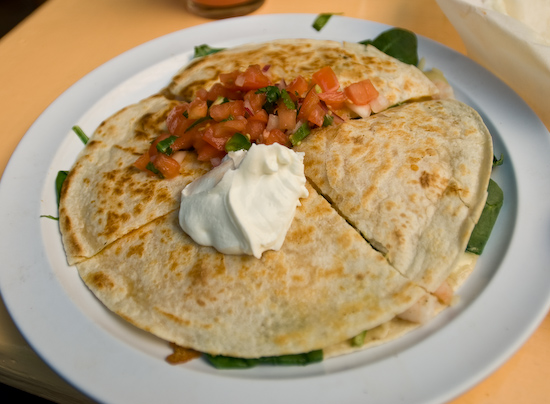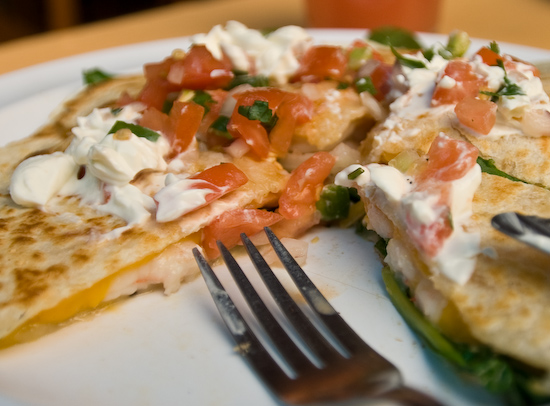 Primo Patio
214 Townsend St
San Francisco, CA 94107
(415) 957-1129
For dinner, Tina and I met up with our friends Dave and Rachel. We decided on ramen and I suggested a place they hadn't been to, but one that I really like called Ramen Halu. Ramen Halu serves a very rich broth (pork based) that adds substantially to the meal. When we got there though, the line was fairly long, no parking was available, and we knew we'd have to stand outside in the cold for a while. So, I suggested we travel south further along Saratoga to Ringerhut where decent ramen could also be had. Ringerhut is also larger and so if there was a line the wait would be shorter, and we'd also be waiting inside where it's warm. We'll try for Ramen Halu at a later date.
At Ringerhut, I ordered their Tonkatsu Ramen (which uses a thinner noodle than their regular shoyu ramen and their Nagasaki champon for which Ringerhut is famous). We also shared a side of gyoza (japanese pan fried dumplings). Instead of bringing my Nikon D200, I pocketed a new Panasonic Lumix DMC-LX2 which I figured would be easier to carry for purposes of documenting my meals. I freaked out when I realized the batteries were low (it was blinking red at me when I turned it on), so I took only a couple shots of the food - all slightly blurry due to camera shake. I'll have to work on that. The Lumix has fared pretty well on my tests and I think the quality of photos will improve as I get used to the new point and shoot.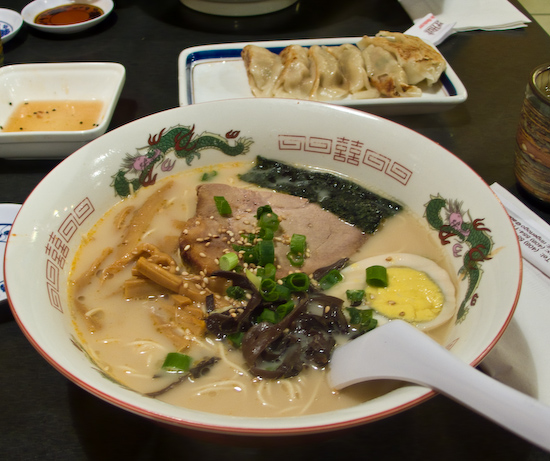 Ringerhut (Google Maps)
1072 Saratoga Ave
San Jose, CA 95129
(408) 554-0877