AUTHORS
CATEGORIES
ARCHIVE
ACTIONS
What I Ate: January 11, 2008 (Mayuri Indian Cuisine)
Posted 13 January, 2008 at 12:58am by Michael Chu
I had lunch with my friends Harold and Fred at Mayuri Indian Cuisine. It was buffet, so I chose foods that were not as spicy as I normally would go for since I didn't want to upset my stomach. I went for a dish called Chicken 65, Tandoori Chicken, a lamb kebab thing that I normally get, and some pilaw on my first pass.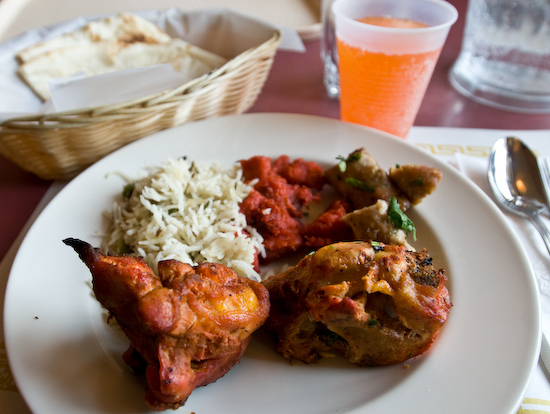 The lamb kebab things tasted a little odd and had a different texture than normal. I gave mine to Fred. I was pleasantly surprised by the ultra red Chicken 65. It was lightly crispy and very flavorful. I got more of that as well as some of the carrots and bananas that Fred seemed to enjoy so much and some okra (I love okra).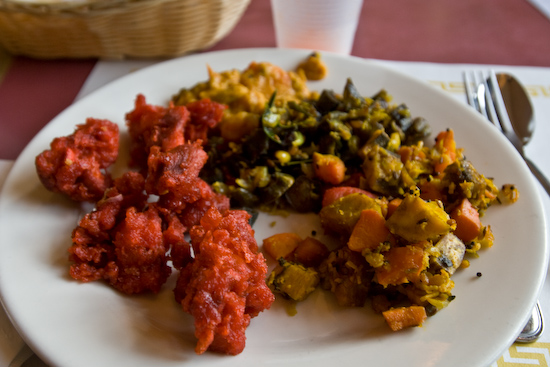 Mayuri Indian Cuisine
2230 El Camino Real
Santa Clara, CA
(408) 248-9747
Dinner. Having finished all the rigatoni, I cooked some ruote (wagon wheel shaped) pasta that I found in my pantry. It went very well with the meat sauce.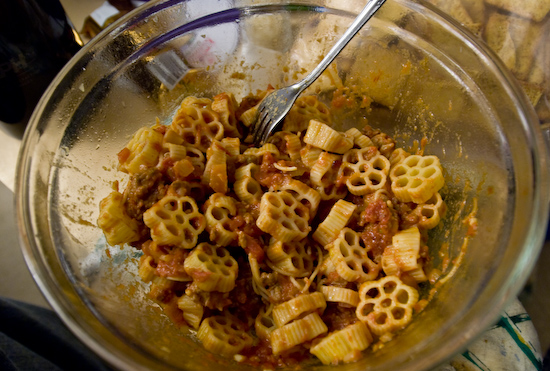 I'm beginning to worry about the meat sauce. It's still tasty, but there's several more meals of it and I don't usually have the ability of eating the same thing too many times in a row. Tina usually can't eat something more than twice in a row, but I can probably do it five or six times if it's tasty. Unfortunately, I might not be able to finish the meat sauce before I hit my limit. We'll see.